Shipping orders are to track grain movement before final paperwork is received. Also allows you to forecast truck schedules at the scales and grain inventories.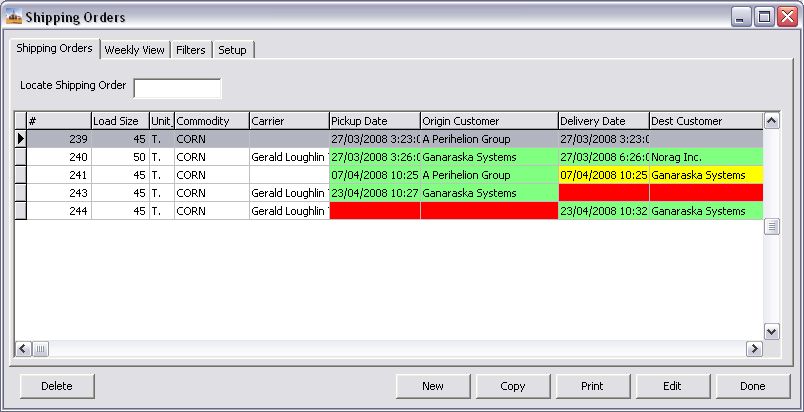 Schedule screen shows open shipping orders and colour coordinated them to help you identify important records. (note all colours are customizable for each user). in this example green shows a balanced shipping order (both origin and destination are entered). yellow shows partially completed shipping orders (you have entered ticket information for either origin or destination), and Red shows a undefined side (origin/Dest are to be announced).
the schedule can also be shown in a weekly format by clicking the weekly view tab.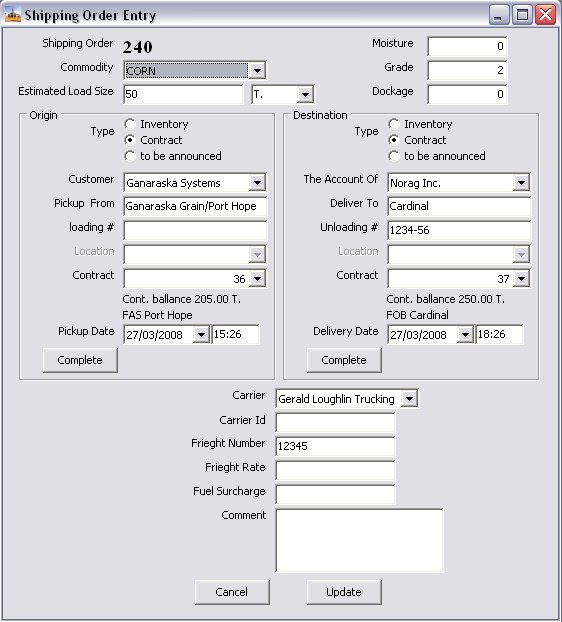 the shipping order its self is split into 4 sections, grain detail, origin information, destination information, and shipping information
to enter origin/destination
first you select type

inventory – the origin/dest will be you elevators inventory
contract – the origin/dest matches up with a contract already in the system. this will temp consume the contract you select, to avoid over shipping the contract
to be announced – the origin/dest has not been finalized yet

account of – the account owner of the grain (inventory adjustments for your own)
Deliver to – the location for the trucker to deliver the grain
un/loading # – to keep track of the origin/dest loading/unloading numbers
Location – the elevator location that the inventory will be added or removed from
Contract – the corresponding contract to this shipping order.
Pickup/delivery Date – the expected dates of the trucks arrival/departure
Shipping information
Carrier – the trucker delivering the grain (selects from truckers defined in address book)
Carrier ID – an open identifier field to use in relation to trucker
Freight Number – Trucking companies freight number
Freight rate – Quoted delivery rate
fuel surcharge – quoted fuel surcharge
comment – internal comments for this shipping order