If you choose to post tickets in batches you will need to run this screen.
From the Main Menu select Tickets -> Create AR/AP Batch and the following Screen will appear: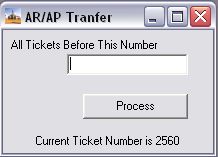 Enter the LAST Ticket number, GMS GENERATED #, (this is given at the bottom of the screen) to process, ALL previous UN-posted tickets will be included in the batch.
NOTE: if you wish to see what will be posted before you do so both the "UN-posted AR" and "UN-posted AP" reports need to be printed.